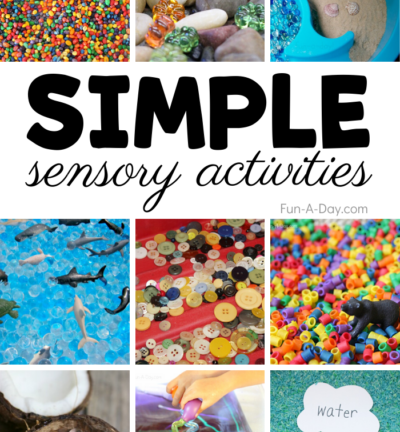 Simple Sensory Activities
These simple sensory activities are sure to give the kids hours and hours of playful learning. I know it is hard because we are not in class together but I wanted to share some of my favorite sensory activities that you can do at home with an adult's help! The focus here is on SIMPLE sensory play, so I've tried to choose ideas without too many materials. These activities should be easy to do at home with household items.
Sensory play is important because it:
is FUN!
teaches problem solving skills.
is calming and helps children when they're stressed or need to regulate their behavior.
usually incorporates life skills (like pouring or scooping).
allows for a lot of fine motor and gross motor practice.
gives the children the chance to practice rules and self-regulation.
Okay, I'm going to stop there for now. Now let's take a look at some fun and easy sensory ideas for the kids.
Jell-O Soap Foam – Grab some water, dish soap, and Jell-O powder for this scented sensory experience.
Chicken Sensory Bin – Love the base of shredded paper!
Beach Sensory Small World – Fantastic Fun and Learning turned a shell collection into some fun play for the kids.